Blicky?s CD Release Show
Blicky's new record drops on Wednesday January 5th and they're playing a show at Neumos to celebrate. Come on out we'd love to see you there.
One Minute Singles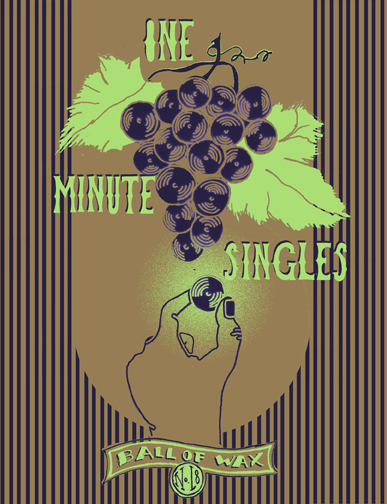 45 Band
45 Tracks
1 CD &
75 minutes
Ball of Wax 18 is out now. Pick up a copy.
Levi and Emory put out a challenge to the bands all over the northwest to submit singles between 60 and 119 seconds long and they got more songs than they could fit on a disc. This episode of Ball of Wax takes you all over the musical map and flows together beautifully. The tracks are all great and you're bound to find a band that you want to hear more of. Check out a random sampling of songs and more info at the official One Minute Singles Website.
Ball of Wax 17
Levi Fuller is releasing Ball of Wax 17 on August 13th at the Sunset Tavern in ballard. If you haven't been to a ball of wax release you're missing out. Levi will be wrangling at least 8 bands on and off the stage in a single evening in what always turns out to be a very cohesive night of music. Admission includes a copy of ball of wax and if you don't have any old issues you can pick one up from Levi at the show.
Beep Repaired Family Tree II
We're releasing our third compilation and our second in what we like to call the family tree series. This edition is two disks, a total of 37 tracks and all in hand made packaging. We're having a little release party to raise money for Hollow Earth Radio on March 21st with 22 of the comp's 37 bands playing live in one venue all in one day. We'll be at the Holy Mountain from 2 til 3 for anyone interested. For the those of you who can't make it we'll have the disk up on the catalog after the release party. Here are the bands on the comp.
Autopilot is for Lovers
Baby Sloth
Beast, Please Be Still
Blicky
Brittain Ashford
Choncey Langford
Cock and Swan
Corespondents
Dead Doctors
H is for Hellgate
Happy Birthday Secret Weapon
Hecka Ar
Iron Clads
Lake of Falcons
Leaf Language
Leisure Hive
Levi Fuller
Lonesome Shack
Low Red Land
Navigator vs Navigator
Oars
Old Man Smithers
Open Choir Fire
Police Teeth
Sequin Socks
Smile Brigade
Snowman Plan
Sweet Potatoes
The Bismarck
The Contraband Country Band
The Curious Mystery
The Graze
The Whoremoans
Unlearn
Virgin of Birds
Webelos
Yonderlow
MAGMA FESTIVAL
Have you been interested in the goings-on of the Northwest's community-based online radio Hollow Earth, but haven't had the extra time or resources to put in volunteering? What if you could support the station while attending concerts you probably would be out to see anyway? Well, Magma Festival sounds like just the fit then!
Serving as a benefit for Hollow Earth Radio, this year's second annual Magma Festival will be held in venues across Seattle every Friday and Saturday throughout March. HER has pooled together some of their favorite bands to represent a diverse line-up throughout the eight nights. Even the Beep Repaired collective has an entire day dedicated to the release of the latest compilation.
Each show has a different set price, but why not pick up a month-long pass from the Hollow Earth website for only $35 and pay almost half price for the whole festival? You could use the extra cash to buy your very own HER t-shirt at the shows.
Tune into Hollow Earth Radio direct from your desktop: www.hollowearthradio.com
New HER Shirts!
Oh WOW these new shirts!
Celebrate Hollow Earth Radio's 2nd birthday with us and help support truly free form community radio!! Go to hollowearthradio.com to order! And Thank You!!
Dandelion Gold One
Dandelion Gold One will be out now. Scoot over to their site and pick up a copy or better yet go to the release show at the big blue house and pick one up in person!

Ball of Wax live on HER this weds late night


DJ Dearbornagain will be broadcasting live from the Sunset this wednesday just after 11pm,
speaking with Levi Fuller about his (wonderful) Quarterly Audio Magazine and giving you the live music straight from the stage..
hollowearthradio. com
Ball of Wax 12 Release Show!
Wednesday, May 28th!
(Where else but) The Sunset Tavern!
with Jeremy Burk, The Crying Shame, Origami Ghosts, Poland, Ryan Dolliver, Kate Tucker and the Sons of Sweden, Peter Verdoes, Jack Shriner and Devoirs!
see also the BoW myspace page to listen, and for additional info.

Scared Girl Television
Check out Scared Girl's barrage of sock monkey movies. She got tons of movies up on her youtube station. You can also check them out on her blog. Everything from mummification to Law and Order.
White Elephant Record Exchange Project
The second in our inaugural year of quarterly musical games/projects. The first being the Harry Candy game that became Ball of Wax no.11, This one is a two CD free download.
The White Elephant Record Exchange Project was undertaken by 20 individuals in the late part of January 2008. The project involved sampling, composition, and ultimately all kinds of editing and manipulation of various original source materials. Participants were first to find the "worst" and "most unusable" 12″ vinyl record possible and hand it off to the curator. Those records were then distributed to the participants insuring everyone received a different record than the one they submitted. After receiving this record, the first goal was to complete one song.
SONG A
The point of Song A was to compose a piece of around 1 minute, 30 seconds or longer, through editing and creative playback of the record alone. No pitch adjustment, time stretching, compression, or any digital effects were allowed in this phase of the project. This meant that the participant could basically just cut and paste, do a bit of layering, and then adjust track levels. It was essentially an exercise in composition to see what each individual could create with supposedly "unusable" source material and very limiting constraints.
Those songs were all finished and then given back to the curator. Once all the songs were gathered, they were then redistributed back to the original person that submitted the 12″ vinyl. For example, if you submitted Led Zeppelin "III" as your album, you then got the remixed, cut-up piece someone created from that album. Then the Song B phase began.
SONG B
The creation of this song had no boundaries whatsoever. The idea was now to allow each participant total freedom (without the difficult constraints of the Song A phase) to create a remix of someone else's Song A piece.
March is Hollow Earth Fundraiser Month
All March long Hollow Earth radio will be putting on events to cover their operating costs. There are tons of ways to get involved and help support this totally indepent, totally open format, community radio. If you haven't listened to Hollow Earth yet… well you're the only one, check them out here.
The best way to enjoy the Magma Festival is with a Magma pass that gets you into all of the shows for one low price.
See you there.
Harry Candy presents Ball of Wax Volume 11
In 2001, some musicians in Seattle started a musical game using my name. ?Harry Candy? is a game or process of writing and recording one song or piece of music in an evening or 24 hours. The only other rule is that there must be more than one person involved, collaboration being a key element.
On November 17, 2007, 35 people met up in the morning at Dearborn on Woodland, Seattle, and split up into 11 randomly selected bands to participate in the largest round yet, and to create the first Harry Candy album. The only rule in the selection was that no one who was already in a band together could end up working together.
Over the next 24 hours, each band wrote and recorded a song and came up with a band name, and the results will be Ball of Wax Audio Quarterly Vol. 11, which will be released very soon. A week later, some adventurous souls in New York took up the challenge and produced track 12, which was deemed by all concerned to be a fine bonus addition.
Frankly, I don?t quite understand all of this, but I?m honored to have been the namesake for such a bizarre undertaking. I do hope you enjoy it.
-Harry Candy
Noise Order Release
The most recent installment of our friend Jason Kopec's Ground Up Series, "Release the Cheerfulness, China – Ground Up 2″ is officially being released February 12, 2008 along with Mark Johnson's "Big Metal Boxes".For those of you not familiar with Noise Order please check them out.A ton of work and love has gone into all of these projects. Jason takes trips half way around the world for the Ground Up series, spending months in countries who's languages he can't speak and carrying a recording studio on his back… oh plus dysentery, Tamil tigers, and communist governments. Here's what some other folks think.
Corespondents on Sonarchy
Corespondents played Jack Straw Studios for the Sonarchy Broadcast back in November. It'll be airing for the first time on Saturday February 23rd at Midnight on 90.3 FM in Seattle and streaming at kexp.org. They played for an hour nonstop and even improvised because Olie broke a string. The show will be archived at kexp.org for two weeks afterwards. Corespondents also applied for a residency at Jack Straw, wish them luck!